Computing students seek wider adoption of proven mastery-based learning practices in their classrooms.
Our recent study on Student Perspectives on Mastery-Based Learning in Post-Secondary Computing Education found that many computing courses incorporate mastery-based learning practices. These include defining clear learning objectives, mapping them to course grading schemes and assignment rubrics, and allowing multiple assignment submissions with personalized feedback.
However, as illustrated in the infographic below, there is a gap in adopting certain practices due to concerns about logistical challenges, such as finding the optimal structure for student-paced courses or lacking resources to provide feedback. Moreover, there is concern over the potential adverse effect on student engagement, performance, or satisfaction.
Advancements in computing education technology are enabling many educators to overcome logistical hurdles. For instance, auto-graders allow instructors to configure assessments (including coding assignments) that accept multiple submissions and provide students with instant, contextual feedback.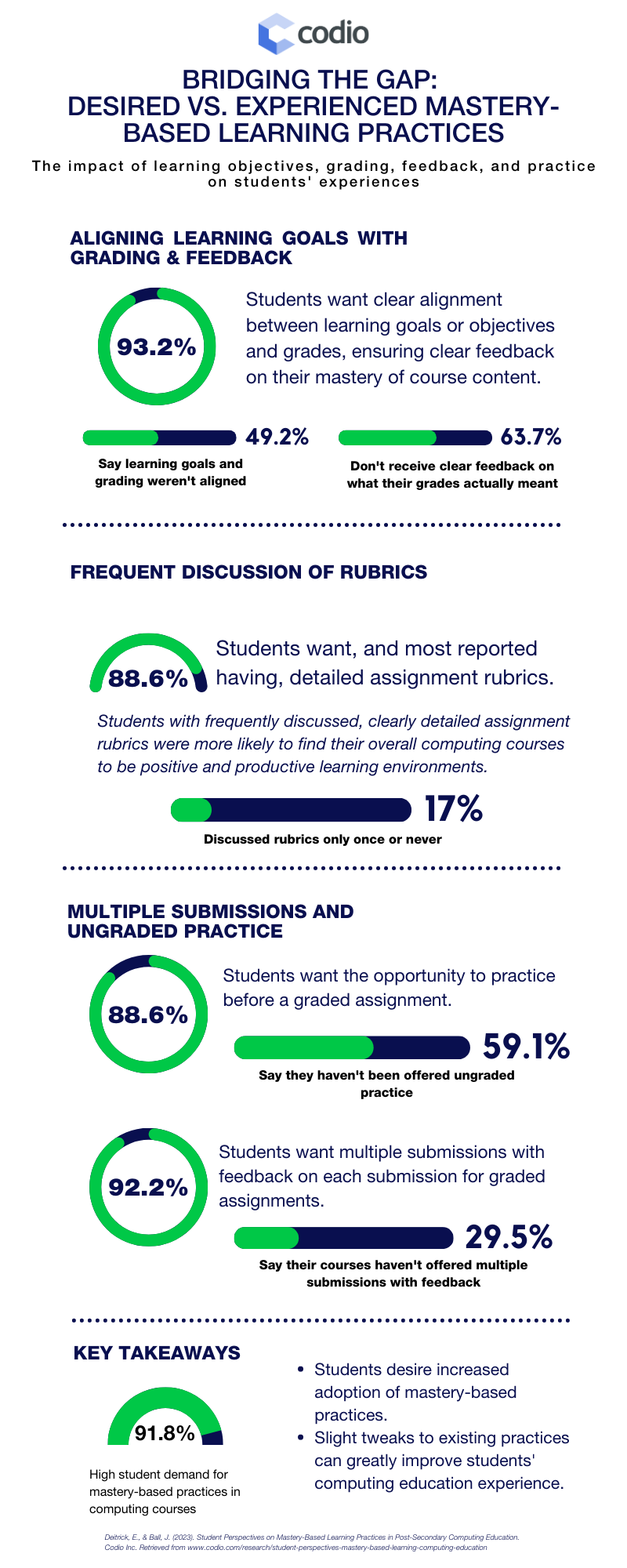 Our 2020 Survey of Computer Science Teaching: Pedagogical Practices in the US revealed that educators are eager and motivated to adopt pedagogical practices (such as mastery-based practices) due to student-focused concerns like enhanced student understanding, greater engagement, and improved student engagement participation. Interestingly, the most significant perceived roadblock to adopting a new practice was: "Students might not like it."
The results of our latest survey indicate that students overwhelmingly desire mastery-based learning practices in their computing classrooms. In addition, we discovered that students are more likely to view computing courses as positive and productive learning experiences when they have more frequent discussions of learning objectives, detailed assignment rubrics, better alignment of learning objectives with grading, and additional opportunities to practice skills and receive feedback before completing graded assignments.
Among the mastery-based methods surveyed, ungraded practice with feedback and detailed assignment rubrics were the most desired by students. By implementing such practices, educators can help students achieve higher levels of mastery and improve overall outcomes.