Codio has released new in-platform audio-visual capabilities to better connect learners and instructors. By streamlining communication through the Codio platform, collaborative coding is more interactive, especially for educators and learners in remote or hybrid courses.
The inspiration behind Codo's audio/visual features
The interruption of in-person learning in 2020 was one of the most significant challenges in education. As many educators and students had to pivot to Google Classrooms and Zoom meetings, the value of clear communication became more apparent than ever, especially given that many campuses are relying on hybrid models for the Fall 2021 semester.
In the computer science community, reviewing or collaborating on students' code no longer meant sitting side-by-side or looking over their shoulders–it turned into emails, chat messages, and comments that tried to pinpoint where in the file you were working. To help overcome some of the roadblocks of remote collaboration, in 2020, Codio released the Remote Student Feedback Toolkit, which includes Code Playback, Cursor Presence, and In-Line Code Commenting.
While the Remote Student Feedback Toolkit allows instructors and students to easily identify and communicate with each other on code, a request for audio in Codio appeared on our Feedback forum in May 2020. Immediately understanding that sometimes there is no substitute for face-to-face communication, we made plans to integrate audio, visual, and chat features into the platform–all of which are now available to any instructor.
How to start using audio and video in Codio
Using A/V features in Codio couldn't be easier because it's already enabled for all users. Once you're in a project, you can start a call using audio or video by clicking on the phone icon in the upper right corner.
After clicking on the phone icon, a new pane will appear on the right side of your window. At the bottom, you can turn on your microphone and/or webcam. You can change your microphone or webcam settings by clicking the settings gear within the pane. If you turn on your webcam, you will see a preview of your video before joining the call.
To officially join the call, click the green phone icon on the bottom of the pane. If you're the first user to join the call, a notification will be sent to other users on the project that there is an active call.
From there, you will be able to select whether you want to use audio, video, or both. Once joined, the pane will reload, showing everyone who has joined the call.
When you join the call, you can also enable an in-project chat. For users who have difficulty running audio and/or video due to broadband strength, chat is a viable option to communicate in real-time.
To exit a call, regardless of any other active participants, click the red phone icon. Once you leave the call, the chat file will remain on the screen until you completely close the pane. If you want to rejoin the call at any time, just click the now green phone icon.
Our A/V and chat features are ideal for pairs or small groups of students and instructors working in the same code file at one time; however, we don't currently recommend hosting full classes, such as remote lectures, using these features.
With Codio's A/V and chat features, you no longer have to use multiple platforms to have a fully collaborative coding experience. You can try it for yourself when you create a free Codio instructor account.
For more information on A/V permissions, visit our technical documentation.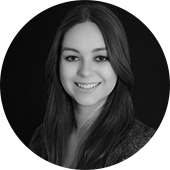 Megan McHugh
Megan is a Marketing Manager at Codio. She has a Bachelor of Arts in Communication and a Master of Arts in Integrated Marketing Communications.