edX integration
Codio, the leading cloud learning platform for computer science education is now available to all institutions offering courses on edX.org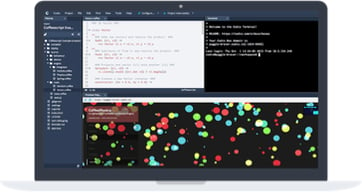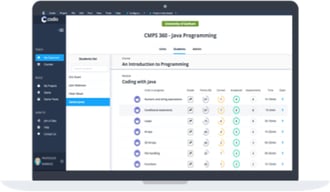 Cambridge, MA, October 2018 -- Codio, the leading cloud learning platform for computer science education, created to drive higher performance and better outcomes from computer science education, is delighted to announce the general availability of its integration with edX.org, the leading nonprofit online learning platform founded by Harvard and MIT. Codio enables instructors to deliver more interactive and engaging content than ever before. Codio's platform levels the playing field for learners giving them all access to a high quality, easy to adopt learning experience for computer science and related disciplines. Codio's infrastructure and learning tools are also a joy for faculty and instructors, providing an unparalleled level of flexibility and control in programming environment configuration, import or authoring of course materials, a highly tolerant code assessment engine and auto-grader. Faculty and instructors can also gain new insights into learning patterns and provide rich immediate feedback to learners. Codio's integration with edX makes these benefits available across the over 2,000 online courses and programs offered on edX.org.
Having already been deployed across many partners within the edX global partner consortium, Codio's edX integration can support a broad range of courses, including Introduction to Programming, Web Development, Animation and CGI Motion, Artificial Intelligence, Machine Learning, Data Science, Software Development and more from the leading computer science teaching universities.

Columbia University's Animation and CGI Motion course is one of the edX courses supported by Codio
"The challenge of delivering a high quality environment and experience for both instructors and learners is paramount for computer science and related fields, so we're delighted to announce this integration with edX to make Codio generally available to any institution running courses on edX.org" said Phillip Snalune, CEO of Codio. "Codio has invested heavily to ensure maximum flexibility and control for course leaders in all aspects of delivering online courses at scale - from easy configuration of cloud programming environments, to assessment engine functionality, auto-grading and class management."

"We are excited to announce this new level of integration with Codio," said Mark Rudnick, edX's Director of Partner Success. "Through our work together, we're able to offer learners, all over the world, an enhanced, interactive and personalized online learning experience with course concepts better illustrated, assessments and lab environments more flexible, and with better feedback options through Codio's advanced auto-grading features. Our partnership marks an exciting step in furthering our joint missions of raising the quality and accessibility of computer science education for all learners, everywhere."
Key Features of Codio available on edX include:

Easy Adoption

With easy Learning Tools Interoperability integration, Codio handles single sign on without the need for a subsequent Codio log in

Makes adoption easy with minimal disruption

Easy set up for institutions

Easy to Use for Faculty, Instructors and Learners

Learners enjoy one single consistent learning experience - Codio's unique authoring and assessment tools create an engaging experience for learners with assessments and class exercises presented in a simple integrated user interface

Create and enhance your learning materials by authoring inside the development environment

Create a better learning experience for learners by bringing concepts to life in a uniquely interactive way - with authoring tools that control other files inside the IDE

Enhance course completion rates with higher levels of engagement

Massively scalable infrastructure

Configure, template and share any programming environment instantly

No wasted setup and configuration time

Vast library of pre-configured software

(from Python, Java, C, C++, Node.js, to Ocaml, Scala, R, R-Studio and more). Or configure your own

Powerful, tolerant Autograding engine

Powerful auto-grader enabling automation of course assessments and exercises

Flexible, tolerant assessment engine for simple through advanced forms of scripting for auto-grading purposes

Performance dataset for every learner

See previously inaccessible insights into learning patterns and problem-solving behavior

Instant access to learner code

Provide learners with faster feedback

Easily find where a learner is off track

Flexible cloud containers, accessible anywhere

Containerized ubuntu cloud servers with sudo level privileges

GUI desktop app for offline coding that syncs with your workspace in the cloud

Scale your environment to meet your demands
Codio's easy to configure programming environments can be templated and shared instantly with thousands of learners. Coupled with advanced authoring tools and a powerful auto-grading assessment engine, the Codio integration with edX provides the easiest to use, most engaging learning experience for edX courses.
About Codio
Codio is the leading cloud-based learning and assessment platform for computer science education. Our mission is to raise the performance of computer science programs by giving faculty and instructors the tools to teach more effectively and by creating a more engaging learning experience for students - together yielding better outcomes for institutions and students. Already deployed by top-tier universities and MOOCs, Codio saves faculty time, reduces the cost of scaling programs, provides more flexibility and control, creates a more engaging experience for students, and unlocks new previously inaccessible learning insights. To learn more about Codio, please visit www.codio.com and follow us on Facebook and Twitter
About edX
EdX is a nonprofit, open-source learning destination offering online educational programs and courses at edx.org in alliance with more than 130 member institutions, composed of both leading global universities and colleges, and a diverse group of prominent organizations from around the world. Founded by Harvard University and Massachusetts Institute of Technology (MIT) and based in Cambridge, MA, U.S.A., edX is focused on transforming online and classroom learning through groundbreaking methodologies, game-like educational experiences and cutting-edge research on an open-source platform.
Phillip Snalune
CEO, Codio
psnalune@codio.com
+44 (0)7985 802042
Phillip Snalune
CEO & Co-founder. Phillip is concerned with Codio creating a teaching and learning experience that users will find indispensable such that user advocacy drives exponential growth for the company, and in doing so, sees Codio make a measurable positive impact on teacher and learner outcomes from computer science education globally.