We're launching our Resiliency in CS Education Campaign to help CS educators develop effective and engaging courses that can be delivered in both traditional and remote learning contexts.
Codio is committed to helping members of the CS education community deliver the best possible learning experience to their students, as well as providing resources and tools to help teachers excel in both normal times and in extraordinary circumstances.
Our campaign provides the opportunity to participate in a program of support designed to help you improve the resiliency of your CS curriculum as you transition away from Emergency Remote Teaching to a more sustainable online or blended learning model.
The outcome is to put you in a position to be able to support and deliver your courses effectively whether that's on campus, through remote learning or fully online. The program includes:
Free Professional Services

:

Authoring and Instructional design help to port Course materials or convert your assessments, labs, and assignments*

Professional development training via live or on-demand webinars
Complete access to Codio's customizable curriculum resources and our library of editable, auto-graded assessments
In-person support from our acclaimed support team to get you up-and-running quickly
Unrestricted use of Codio for faculty and students through 8/31Flexible cloud infrastructure that supports your program at scale, eliminating dependency on physical campus-based infrastructure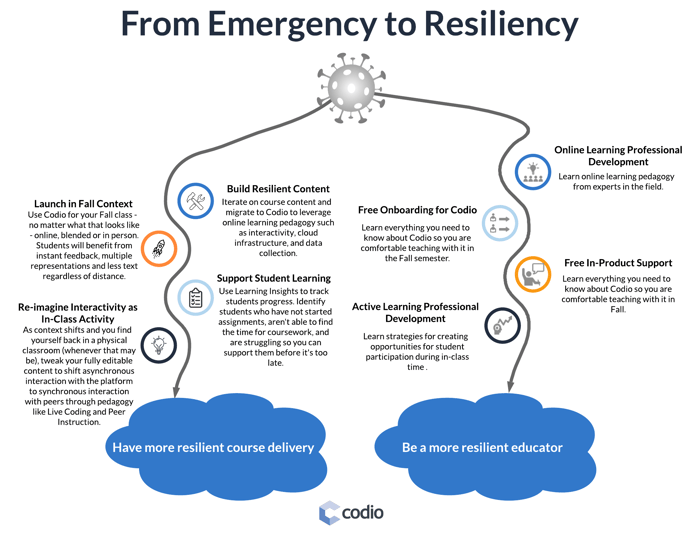 More than many of the free resources offered by traditional publishers, with Codio you not only get access to platform infrastructure designed to support resilience at scale, you also get an entire team of CS professionals committed to your success.
Why not seize the opportunity of support from fellow Computer Science professionals to build resilience into your course delivery?
To participate and take advantage of all of the benefits included, register your interest here or on the form below by 6/30.
*For organizations with 100+ students